LG Computer Screen Ultra Wide 49WL95C-W
HDR 10 *4K UHD לתמונה מפורטת וברורה מאי פעם *חיבור USB-C *פיצול מסך עד 4 אזורי עבודה* PBP ניתן לחבר 3 מקורות מידע שונים במקביל למסך* כיסוי סולם צבעים רחב sRGB 99% אידיאלי עבור צלמים מקצועיים, מעצבים גרפיים וכל מי שמחפש צבע בדיוק גבוה*מסגרת דקה *מייצב צבע שחור* HDCP 2.2 * מצבי משחק קולנוע והתאמה אישית
Available on backorder
Delivery to your door within 1 - [acf field="delivery_time"] days: [acf field="shipping_cost"] ₪
UltraWide Dual QHD (5120×1440)
Beyond multitasking
49WL95C screen with UltraWide 32: 9 Dual QHD specification (5120×1440), offers you a double 27-inch space, with a 16: 9 aspect ratio and QHD standard – on one screen. It offers 70% more pixels compared to 32: 9 FHD (3840 * 1080) resolution, so you can go beyond multitasking, with a versatile platform that supports multiple formats.
time saving
Find reference items and stock images, for use with raw images. Thumbnails can be displayed on a single screen without changing the current window, so you will spend less time in the design phase.
Manage the timeline in its entirety
By examining the story board, you can delve into the original sections of your videos. Without switching between windows, you can view thumbnails of the source files and upload the files to the timeline.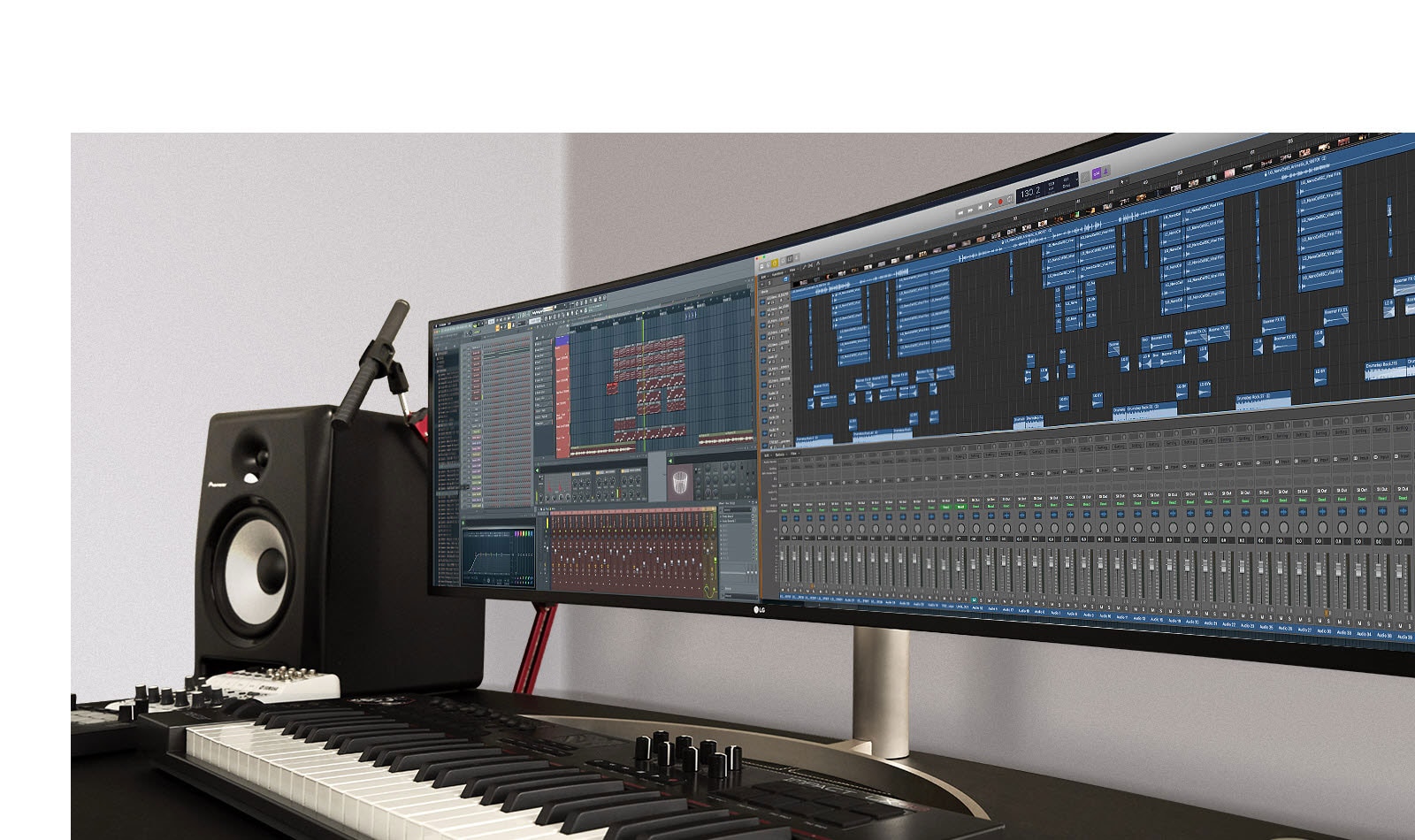 Work on several things at once
From now on, without scrolling, you can go through a 5-minute timeline and complete an organizational task. For music clips from YouTube videos, you can complete tasks with 1: 1 video editing and mixing tools.
Increase your workstation
Vertical mounting of two 49WL95C monitors will yield a workspace equivalent to four 27-inch QHD monitors, but with fewer cables and smaller frames.
OnScreen Control
Display settings and restyling
On-screen control software allows you to control the various display settings with a single mouse click. Screen splitting helps you easily divide the overall display area.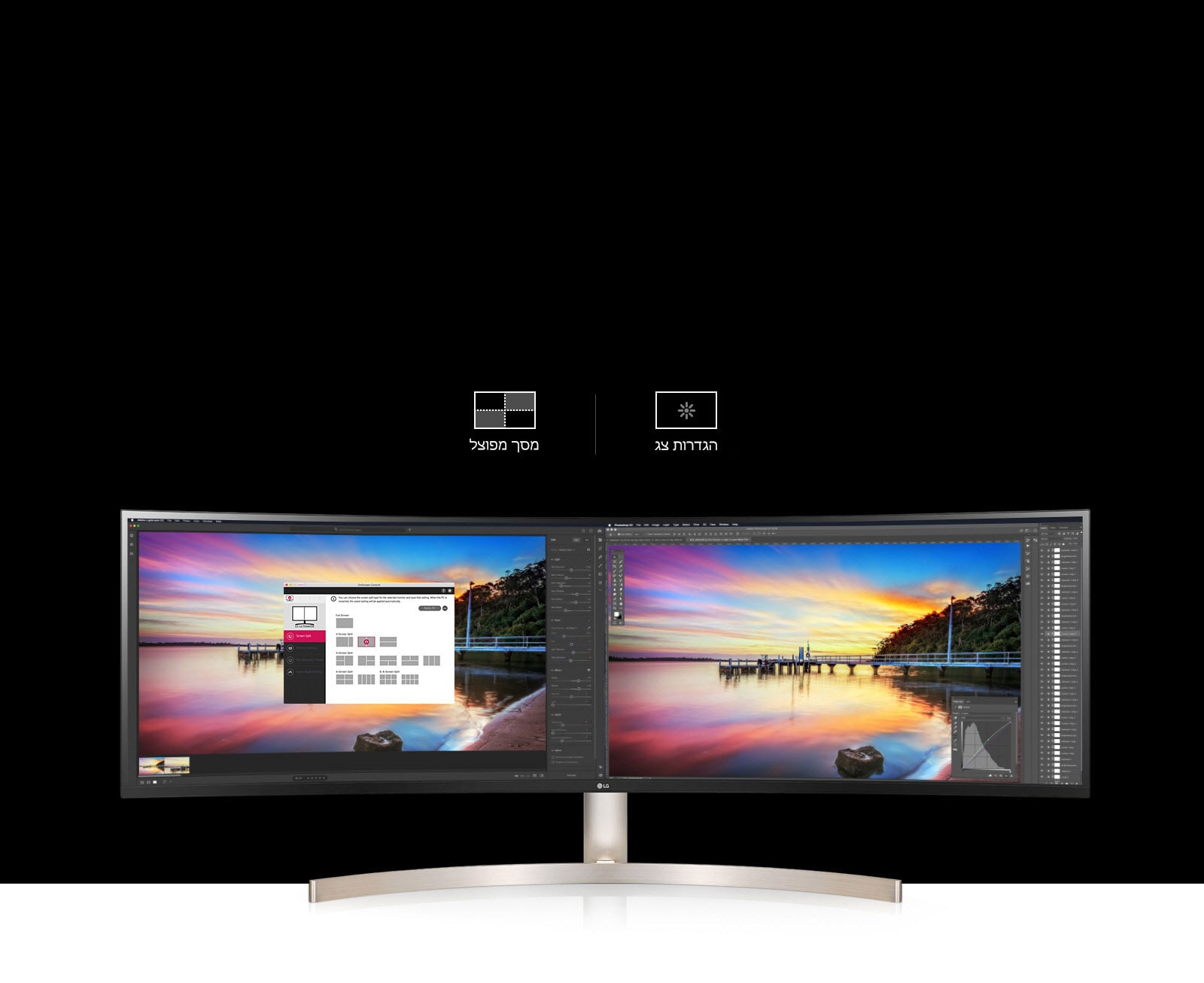 ™ USB Type-C
Easy-to-operate control and connectivity
More and more people are using advanced laptops as standard for mobile workstations. With USB Type-C support, the 49WL95C screen complements your mobile workstation with a single cable.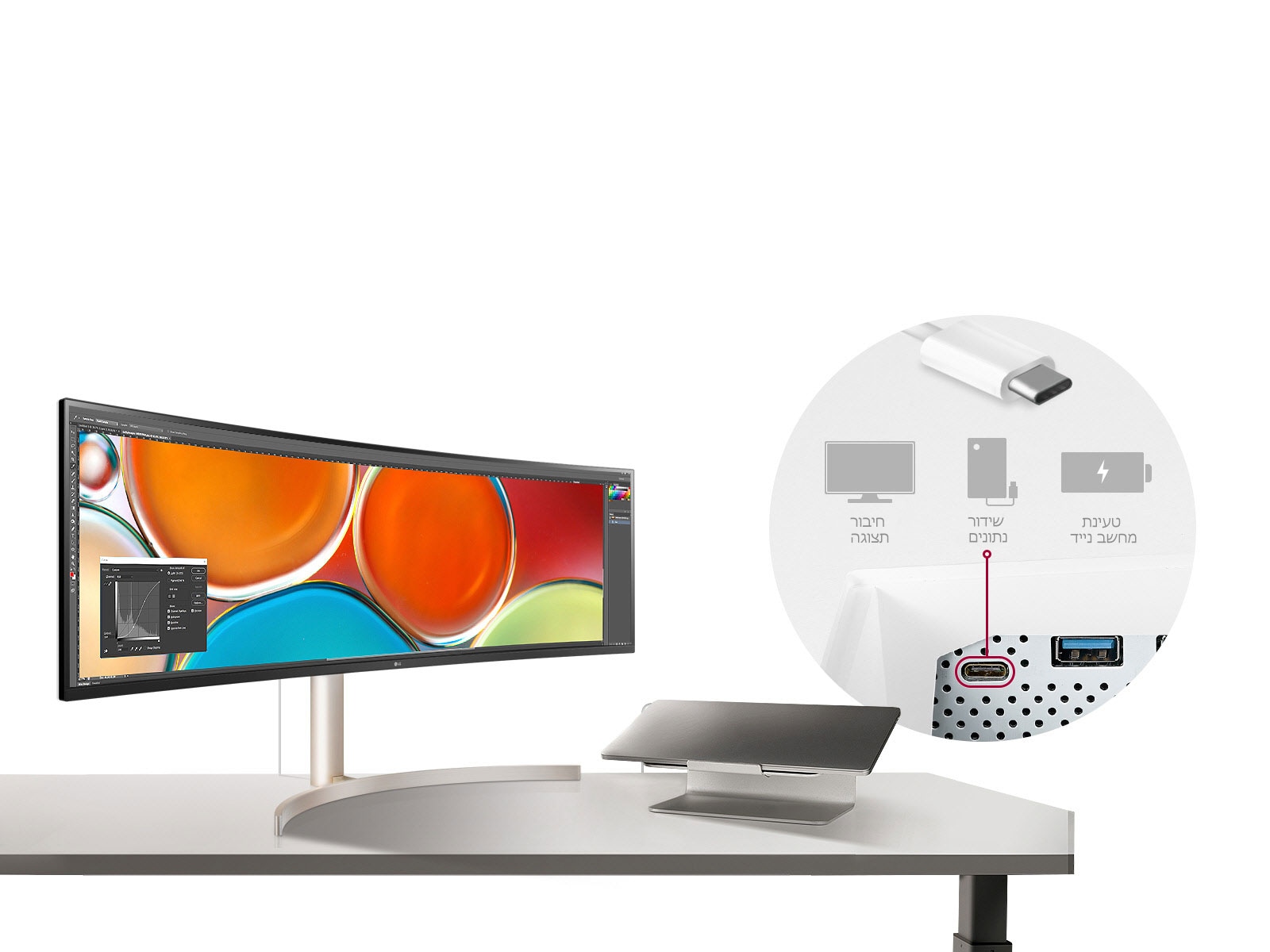 2 * 10 watt stereo speakers
Rich bass sound
49WL95C boasts two built-in stereo speakers (2 * 10 watts). It is suitable for a small editing room or a private room without the need for external speakers, with support for rich bass sound.
Ergonomic design
Ergonomic and simple to operate
Height adjustment, tilt and horizontal rotation options help adjust the table to your needs and create a more comfortable and personal workstation.
DISPLAY
Size (inches)

49 inches

Size (cm)

124.46 cm

resolution

5120×1440

Panel type

IPS

Height-width ratio

32: 9

Pixel step

Mm (vertical) 0.234 x (horizontal) 0.234

Brightness (minimum)

(Candela / m2) 280

Brightness (Typ.)

(Candela / m2) 350

Gamut color (min)

sRGB 95% (CIE1931)

Color scale (typical)

sRGB 99% (CIE1931)

Color depth (multiple colors)

1.07B

Contrast ratio (min)

700: 1

Contrast Ratio (Typ.)

1000: 1

response time

5 milliseconds (from gray to gray in higher speed)

Viewing angle (CR≥10)

178º (R / L), 178º (U / D)

Surface treatment

Anti-glare, 3H

concave

Yes
CHARACTERISTICS
HDR 10

Yes

HDR Effect

Yes

Calibrated paint

Yes

Automatic brightness

Yes

Safe from flicker

Yes

Reading mode

Yes

Color weakness

Yes

Super Resolution +

Yes

Dynamic action synchronization

Yes

PBP

Yes (2PBP / 3PBP)

Smart Energy Saving

Yes
APPLICATION SW
Double controller

Yes

OnScreen Control (LG Screen Manager)

Yes
CONNECTIVITY
HDMI

Yes (2 units)

(Maximum resolution in Hertz) HDMI

At 60 Hz 3840×2160

DisplayPort

Yes (1 unit)

DP version

1.4

(Maximum resolution in Hertz) DP

At 60 Hz 5120×1440

USB-C

Yes (1 unit)

(Maximum resolution in Hertz) USB-C

At 60 Hz 5120×1440

(Alternative DP mode) USB-C

Yes

(Data transmission) USB-C

Yes

USB-C (Power Delivery)

Watt 85

USB Downstream Port

Yes (4 units / version 3.0)

Her ear outlet

Yes
SOUNDVOICE
speaker

Yes

(Unit) Speaker_Output

Watt 10

Speaker_Channel

Channels 2

Rich bass

Yes
POWER
Type

Built-in power supply

AC input

Volts (AC), 50/60 Hz 100-240

Electricity consumption (typical)

Watt 80

Electricity consumption (max)

Watt 200

Electricity consumption (sleep mode)

(HDMI Input) Watt 1.0

Electricity consumption (DC off)

Less than 0.3 watts
MECHANICAL
View location adjustments

Tilt / height / horizontal rotation

Wall mounting

100 mm x 100 mm 100
DIMENSIONS / WEIGHT
Measure with stand (width x height x depth)

(Up) mm 1215.1×543.5×307.3
(down) mm 1215.1×433.5×307.3

Measure without stand (width x height x depth)

Mm 1215.1×365.7×114.2

Size for transport (width x height x depth)

1330x298x490 mm

Weight with stand

Kg 15.2

Weight without class

Kg 12.6

Weight in transport

Kg 19.9
ACCESSORIES
HDMI

Yes

Display Port

Yes

USB Type C

Yes

USB Type C to A Gender

Yes
| | |
| --- | --- |
| Colour | |
| Screen Size (inches) | |
| Panel Type | |
| Aspect Ratio | |
| Brightness | |
| Contrast | |
| Maximum Resolution | |
| Viewing Angle | |
| Audio | |
| Ports | |
| Tilt | |
| Warranty | |
| Response Time | |
| VESA Mount | |
| Speakers | |
| Importer | Trevor Tech |
| Warranty Provider | Trevor Tech |
Only logged in customers who have purchased this product may leave a review.
Related products
HDR 10 * 4K UHD *פיצול מסך עד 4 אזורי עבודה*צבע מכויל* כיסוי סולם צבעים רחב sRGB 98% * אפשרות פיצול מסך לריבוי משימות* מייצב צבע שחור* Redeon FreeSync- התאמת מהירות התגובה לתוכן במצב משחק * תומך תקן HDCP 2.2 * מצבי תמונה ומשחק מותאמים * מעמד מתכוונן גובה/ ציר/ סיבוב