LG Computer Screen Ultra Wide 38WK95C-W
מסך קעור* צבע לבן* דיוק צבע מיטבי *מתאים מאוד לעורכי וידאו ותמונות* קצב רענון 75Hz* כולל חיבור USB-C לטעינת ניידים והעברת נתונים* אפשרות חיבור שני מקורות שידור במקביל PBP* עיצוב ני עם מסגרת בלתי נראית בשלושה צדדים* תומך תקן HDR10 *אפשרות פיצול מסך עד 4 אזורי עבודה * מצב קריאה מפחית מאמץ עיניים * מצב משחק * חסכוני בצריכת אנרגיה * FreeSync – התאמת מהירות התגובה לתוכן מיוחד עבור משחקים
Available on backorder
Delivery to your door within 1 - [acf field="delivery_time"] days: [acf field="shipping_cost"] ₪
WQHD+ Screen Resolution
The Wide Quad High Definition+* (WQHD+) resolution is four times clearer than basic HD, for stunning picture quality. Designed for display of advanced graphics on a wide screen, WQHD+ delivers an amazing 3840 x 1600 pixels.
*WQHD+ (3840 x 1600) pixel resolution may not work depending on content, device, interface or graphics card.
HDR10
To more fully realize content creators' vision, this monitor is compatible with industry-standard HDR10 high dynamic range, supporting specific levels of color and brightness that exceed the capabilities of ordinary monitors.
*Depending on the Windows 10 OS settings, HDR content may not be displayed accurately. Please check the HDR On/Off setting of Windows. The HDR setting of Windows defaults to "On" and should be set to "Off" when not viewing HDR content. Images simulated.
(A software update will be made available)
IPS with sRGB 99% (Typ.)
This monitor, with 99% coverage of the sRGB spectrum, is a great solution for photographers, graphic designers or anyone looking for highly accurate color.
21:9 UltraWide® Display
The UltraWide 21:9 aspect ratio makes movies and games more immersive than ever. Need to get some work done, too? All of that UltraWide real estate makes it easy to view multiple documents at the same time, so you don't need to flip back and forth between them.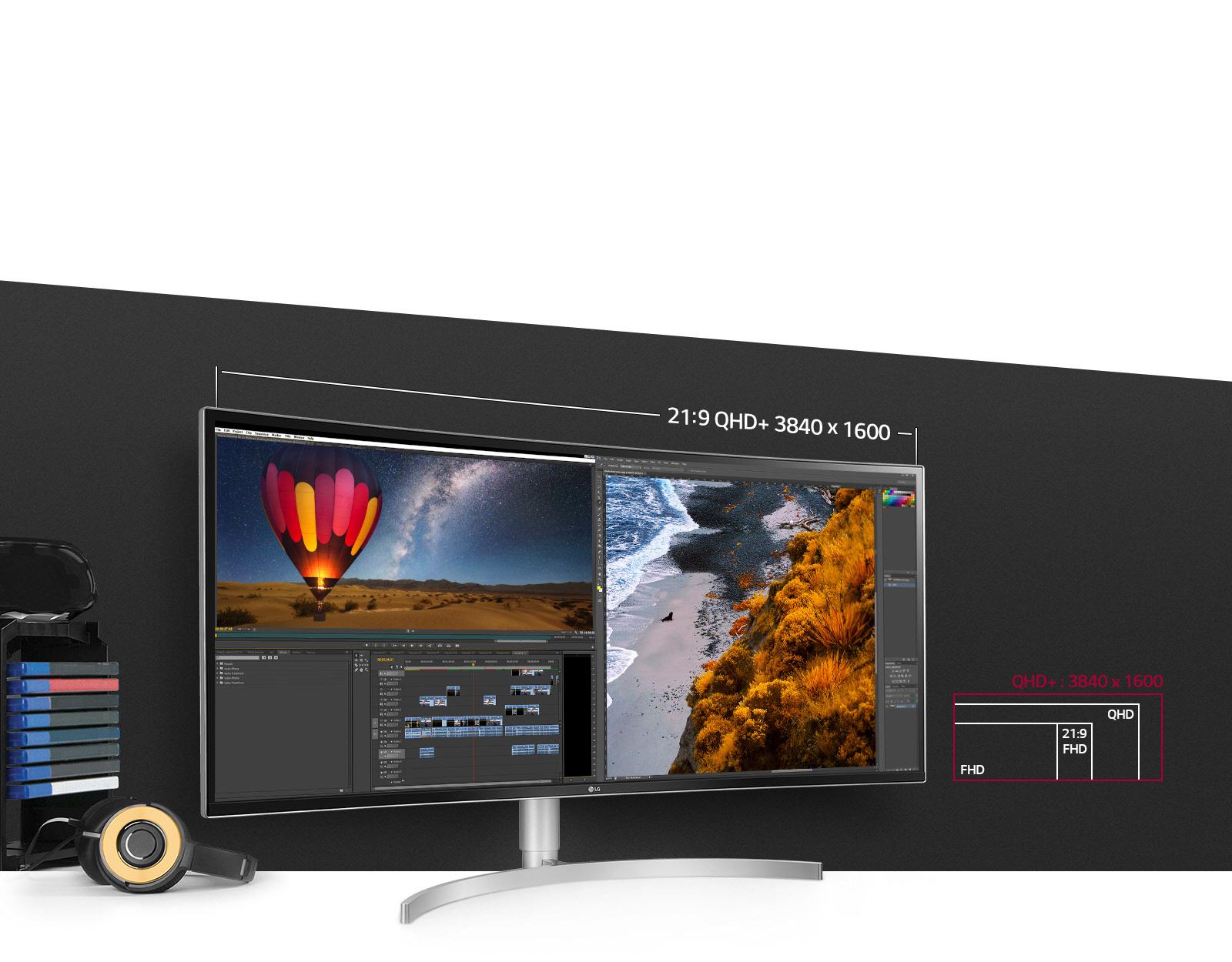 Virtually Borderless Design
The ultra-thin bezel on three sides of this streamlined display offers a virtually borderless visual experience, without distraction from the precise, gorgeous image. A sleek addition to any desktop.
USB Type-C™
Offering a new generation of convenience, USB Type-C™ports allow 4K video display, data transfer and laptop/mobile device charging, all at the same time over a single cable. Reduce cord clutter and increase efficiency with USB Type-C™.
On-Screen Control
On-Screen Control puts a host of essential monitor settings into a handy window for quick, easy access. Volume, brightness, picture mode presets, Screen Split 2.0 and Dual Controller and more can now be adjusted with just a few clicks of the mouse, instead of hard buttons on the monitor.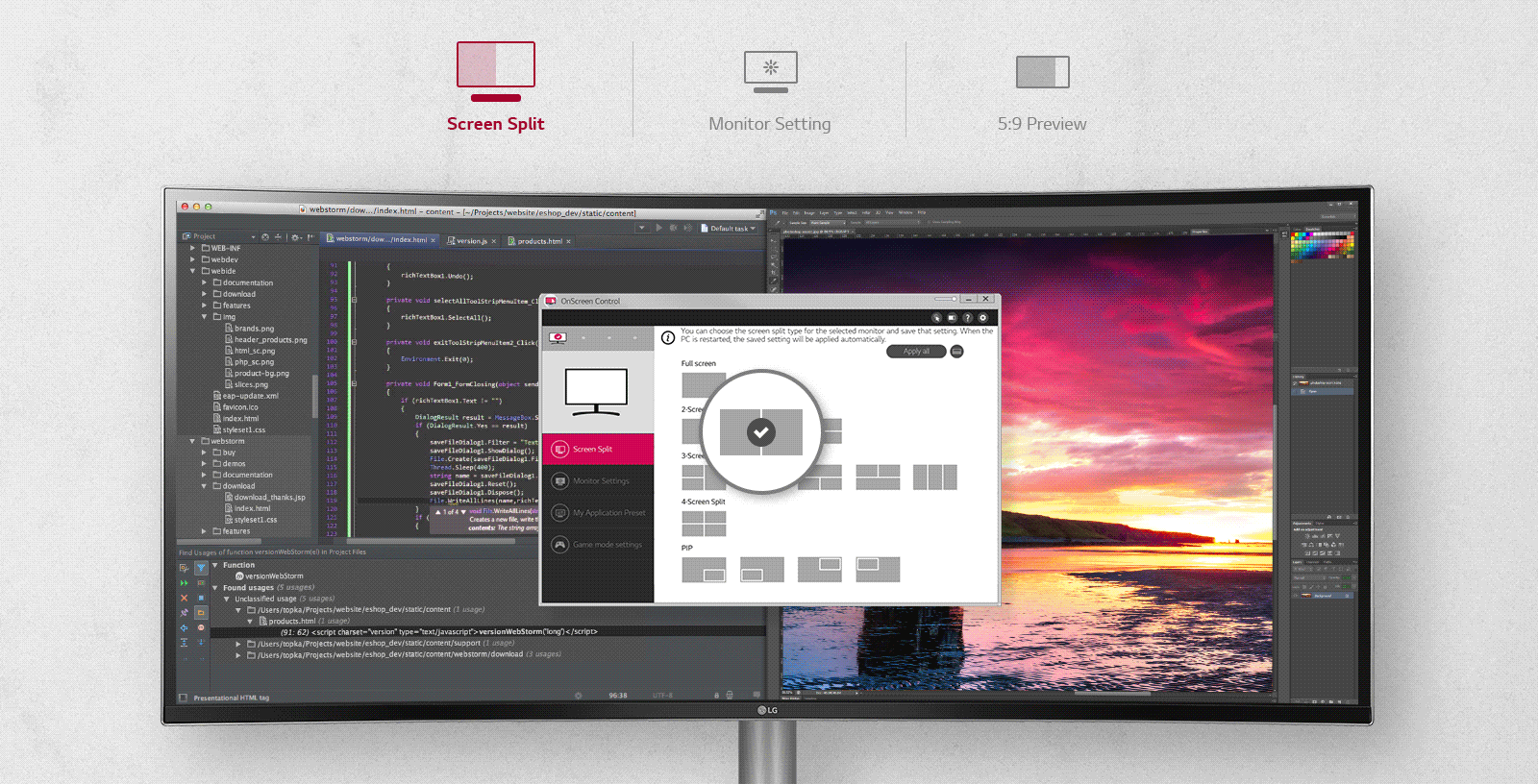 Ergonomic Stand
The sleek design of LG premium monitors is accentuated by the ArcLine stand. The smooth curve of the base provides stability, assuring dependable performance with a touch of elegance.
Only logged in customers who have purchased this product may leave a review.
Related products
* מסך Gaming מיקצועי ברזולוציה 2K- קצב רענון 144HZ* זמן תגובה 1MS*פאנל NANO IPS עם תמיכה ב HDR10* תמיכה ב Freesync* תמיכה ב G-Sync * מעמד ארגונומי מתכוונן * עיצוב ייחודי ללא שוליים בשלושה צדדים