LG Computer Screen IPS/ Basic 24ML600S-W
* פרימיום* צבע לבן*  מסגרת דקיקה בלתי נראית בשלושה צדדים* רמקולים מובנים* רגלית מעוצבת עגולה* עיצוב דק* 75 הרץ * מצב קריאה מפחית מאמץ עיניים * צבע מכויל* ™Radeon FreeSync – התאמת מהירות התגובה לתוכן מיוחד עבור משחקים * ניתן לתלייה על הקיר*
Available on backorder
Delivery to your door within 1 - [acf field="delivery_time"] days: [acf field="shipping_cost"] ₪
Full HD IPS monitor
True Color from any angle
IPS technology emphasizes the performance of a liquid crystal display. Response times are shortened, color production is improved and users can now view the screen in principle from any angle.
Calibrated paint
Colors as designed to show
In order to preserve the original color expression, color calibration is performed which helps to produce more accurate colors on the screen.

Safe from flicker
Reduces eye fatigue
The 'Safe from flickering' feature reduces the flicker to almost zero, and helps protect your eyes. Users can work comfortably for the entire day.
Borderless design across 3 sides
An overwhelming visual experience
The screen is designed in flowing lines with a thin frame on three sides that creates an immersive viewing experience that does not distract from the mesmerizing and lively image on the screen.
™ AMD Radeon FreeSync
A clearer and smoother image
Ade Radeon FreeSync technology enables players to enjoy smooth, uninterrupted high-speed, fast-paced gaming. Ade Radeon FreeSync technology almost completely eliminates the effects of stuttering and tearing the screen.
Reducing motion blur by millisecond *
Ongoing game movement
Reducing motion blur by a millisecond, allows players to enjoy the accuracy required to play at a high level. With a reaction time of a millisecond, the effects of blurring and shading are dramatically reduced and a smoother gameplay is obtained.
Dynamic Action Sync
Faster response to opponents
Minimize the input lag using Dynamic Action Sync so players can enjoy every moment in real time.
Black stabilizer
Attack in the dark in front of everyone
Players can avoid snipers hiding in dark areas and quickly escape from dangerous situations with the appearance of the flash.
Cross intent
Improved direction
The target point is fixed to the center to improve shooting accuracy.
OnScreen Control
Simple user interface
Customize your workspace by splitting the display and adjusting the screen's basic options with a few mouse clicks.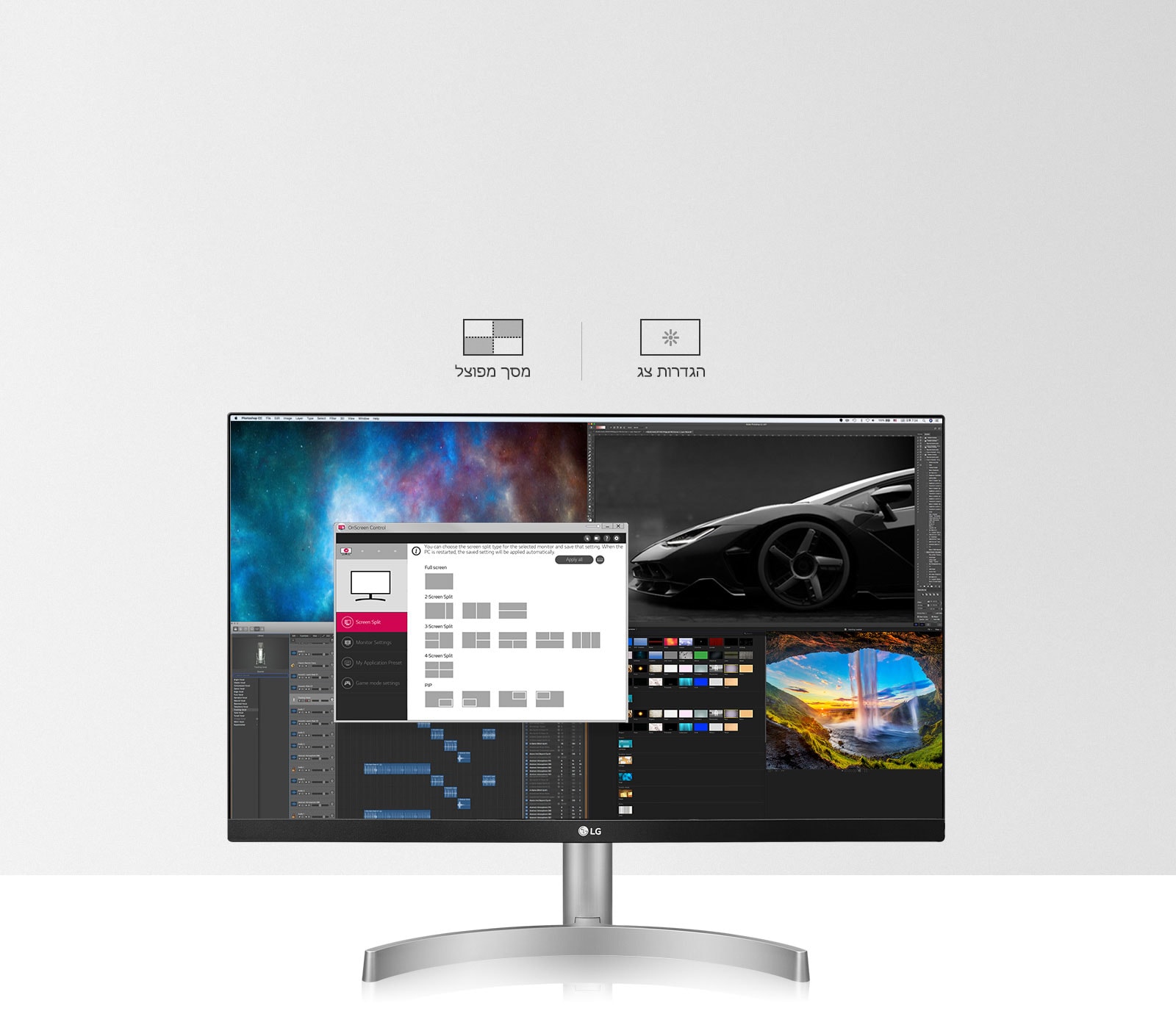 DISPLAY
Size (inches)

23.8 inches

Size (cm)

60.4 cm

resolution

1920×1080

Panel type

IPS

Height-width ratio

16: 9

Pixel step

0.2745×0.2745mm

Brightness (minimum)

200 candelabra / m2

Brightness (typical)

250 (candelabra / m2)

Color scale (typical)

NTSC 72% (CIE1931)

Color depth (multiple colors)

16.7 m

Contrast ratio (min)

600: 1

Contrast ratio (typical)

1000: 1

response time

5 milliseconds (from gray to gray in higher speed), reducing motion blur by milliseconds

Viewing angle (CR≥10)

178º (right / left), 178º (up / down)

Surface treatment

Anti-glare, 3H
CHARACTERISTICS
Calibrated paint

Yes

Safe from flicker

Yes

Reading mode

Yes

Color weakness

Yes

+ Super Resolution

Yes

Reduce motion blur by a millisecond

Yes

™ RADEON FreeSync

Yes

Black stabilizer

Yes

Dynamic action synchronization

Yes

Cross intent

Yes

Smart Energy Saving

Yes
APPLICATION SW
OnScreen Control (LG Screen Manager)

Yes
CONNECTIVITY
D-Sub

Yes (1 unit)

D-Sub (maximum resolution in Hertz)

1920×1080 at 60 Hz

HDMI

Yes (2 units)

HDMI (maximum resolution in Hertz)

1920×1080 at 75 Hz

Audio In

Yes

Headphone out

Yes
SOUNDVOICE
speaker

Yes

Speaker_Output (Unit)

5 watts

Speaker_Channel

2 channels

Maxx Audio

Yes
POWER
Type

External power (adapter)

AC input

100-240 volts (AC), 50/60 Hz

Power consumption (typical)

21.7 watts

Power consumption (max)

24 watts

Power Star (Energy Star)

Not available (without ES7.0 standard support)

Power consumption (sleep mode)

Less than 0.3 watts

Power consumption (DC off)

Less than 0.3 watts
MECHANICAL
View location adjustments

Bias

Suitable for hanging on a wall

75×75 mm
DIMENSIONS / WEIGHT
Dimensions including stand (width x height x depth)

182.0×415.3×539.1 mm

Dimensions without stand (width x height x depth)

66.5×321.5×539.1 mm

Dimensions for transport (width x height x depth)

139x391x611 mm

Weight includes class

3.1 kg

Weight without class

2.8 kg

Weight in transport

4.3 kg
| | |
| --- | --- |
| Colour | |
| Screen Size (inches) | |
| Panel Type | |
| Aspect Ratio | |
| Brightness | |
| Contrast | |
| Maximum Resolution | |
| Viewing Angle | |
| Audio | |
| Ports | |
| Tilt | |
| Warranty | |
| Response Time | |
| VESA Mount | |
| Speakers | |
| Importer | Trevor Tech |
| Warranty Provider | Trevor Tech |
Only logged in customers who have purchased this product may leave a review.
Related products
* חיבור USB-C לטעינת ניידים והעברת נתונים* עיצוב ני עם מסגרת בלתי נראית בשלושה צדדים* * מעמד שולחני מיוחד עם אפשרויות כיוונון נרחבות* תומך תקן HDR10 *אפשרות פיצול מסך עד 4 אזורי עבודה * מצב קריאה מפחית מאמץ עיניים * מצב משחק * חסכוני בצריכת אנרגיה * FreeSync - התאמת מהירות התגובה לתוכן מיוחד עבור משחקים