Dell Adapter – USB-C to Gigabit Ethernet 470-ABND
Delivery to your door within 1 - [acf field="delivery_time"] days: [acf field="shipping_cost"] ₪
Adaptor converts USB-C to Ethernet
For faster streaming and network connectivity, the Dell Adaptor- USB-C to Ethernet enables you to add an Ethernet port using an existing USB-C input on your computer or desktop. A handy addition for users looking to expand or add networks, the adaptor lets you establish a new connection or connect to another network without requiring a router or switch.
Ethernet adaptor enables connectivity
This simple, innovative Ethernet adaptor from Dell allows you to extend your device's bandwidth by establishing a new Internet connection. As long as your device is equipped with a USB-C input, this compact adaptor ensures seamless results. Best of all, it doesn't require replacing or adding a new network card. Use it to add another network, connect to another computer and enjoy videos and other streaming content faster.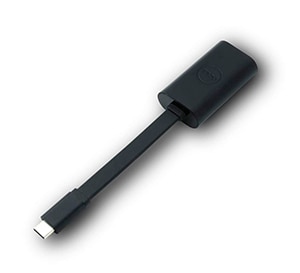 Ensures fast streaming and downloads
The Dell Adaptor- USB-C to Ethernet supports up to Gigabit Ethernet data speeds, so you can enjoy faster streaming of online content, from news and live sports outlets to streaming radio and entertainment sites playing your favourite television programmes and films.
Contains built-in driver for convenient set-up
The Dell Adaptor- USB-C to Ethernet contains a built-in driver for easy set-up, eliminating the need to install drivers from a CD or download them from another source. The adaptor saves you time by automatically prompting you to install the driver when you plug it in for the first time.
Compact size offers easy portability
This small, lightweight adaptor is easy to use and keep handy. The adaptor is fitted with a USB-C on one end and an RJ-45 on the other.
Tech Specs
---
Device Type
Network adapter
Interface (Bus) Type
USB-C
Cabling Type
Ethernet 10Base-T, Ethernet 100Base-TX, Ethernet 1000Base-T
Data Link Protocol
10Mb LAN, 100Mb LAN, GigE
Data Transfer Rate
1000 Mbps
Only logged in customers who have purchased this product may leave a review.
Related products
Earth-friendly, and dependable everyday companion Keep your laptop, tablet and other essentials securely protected within the eco-friendly Dell Pro Slim Briefcase 15 (PO1520CS). Made from more earth-friendly solution-dyeing processes that generates 90% less wastewater, 62% less CO2 emissions, and uses 29% less energy than traditional dyeing processes. Your devices inside will remain dry in wet, [...]