Dell Adapter – DisplayPort to VGA 470-ABEL
Out of stock
Delivery to your door within 1 - 2 days: 0 ₪
Compare
Adapter converts DisplayPort to VGA
The versatile Dell DisplayPort to VGA adapter enables you to view video content from any laptop or desktop with DisplayPort (DP) video output on a variety of VGA-compliant displays, ranging from monitors to projectors. Compliant with DisplayPort specifications version 1.1a and supporting a maximum video resolution of 1920 x 1200, this user-friendly adapter ensures a quality viewing experience.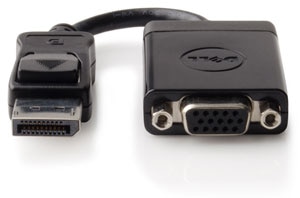 ---
Video adapter ensures connectivity
This video adapter allows you to take video content from your laptop or desktop and display it on any monitor, projector or HDTV featuring a VGA input. As long as your device is equipped with a DP output, this compact adapter ensures a seamless conversion. Use it to enjoy movies on a home projector, mirror your desktop for an expanded workstation or show presentations at school or work.
---
Enjoy a crystal-clear viewing experience
The Dell DisplayPort to VGA adapter supports video resolution of up to 1920 x 1200, making it an ideal for enhanced presentations and intricate graphics.
---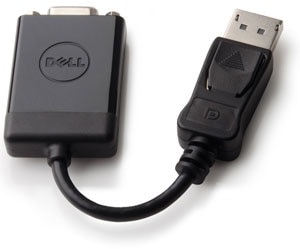 Compact size offers easy portability
Measuring 7 x 0.5 (L x H) inches, this plug-and-play adapter is easy to use and keep handy for impromptu presentations for clients or movie nights with friends. The adapter is fitted with a DisplayPort on one end and a 15-pin HD15 VGA on the other, a standard fit for a wide variety of VGA compatible display monitors, projectors and HDTVs.
---
Adapter is DisplayPort compliant
The adapter is compliant with DisplayPort specification version 1.1a, ensuring true DP quality when video content is adapted and viewed. DisplayPort 1.1a specifications allow there to be a longer reach between source and display without reducing picture quality.
---
Warranty information
Purchase with confidence and rely on the protection of a 1-Year Limited Hardware Warranty from Dell and 1-Year Advanced Exchange Service for your Dell DisplayPort to VGA adapter.
---
What's in the Box
Dell DisplayPort to VGA adapter.
---
Tech Specs
---
Device Type
Video converter
Interfaces
1 x VGA output – 15 pin HD D-Sub (HD-15) ¦ 1 x DisplayPort – 20 pin DisplayPort
Dimensions (WxDxH)
7 in x 0.5 in
General
---
Device Type
Video converter
Interfaces
1 x VGA output – 15 pin HD D-Sub (HD-15)
1 x DisplayPort – 20 pin DisplayPort
Miscellaneous
---
This product is compatible with the following systems:
Optiplex 780 MT
OptiPlex XE DT
Optiplex XE SFF
OptiPlex 980 DT
OptiPlex 580 DT
OptiPlex 790 DT
Precision Workstation R5500
Precision Workstation T1650
Precision Workstation T5600
OptiPlex 7010 DT
Precision Workstation R7610
OptiPlex XE2 MT
OptiPlex XE2 SFF
Precision Workstation T3610
Precision Workstation T5610
Precision Workstation T7610
Venue 11 Pro (5130)
Latitude E6440
OptiPlex 3020 SFF
Venue 11 Pro (7130)
Inspiron 3847 MT
Inspiron 3647 SFF
Latitude 14 Rugged Extreme 7404
OptiPlex 9030 AIO
Venue 11 Pro (7139)
Optiplex 3020 Micro
Precision Workstation T5810
Precision Workstation T7910
Venue 11 Pro (7140)
OptiPlex 3020 MT
OptiPlex 790 MT
Latitude 3450
Optiplex 7010 Mt
Venue 10 Pro (5055)
Venue 10 (5050)
Inspiron 3655 MT
OptiPlex 9010 MT
OptiPlex 9010 SFF
OptiPlex 7010 SFF
Optiplex 3010 MT
OptiPlex 790 SFF
OptiPlex 9020 USFF
Inspiron 3252 SFF
Inspiron 3656 MT
Precision Workstation T3620 MT
Precision Workstation T3420 SFF
OptiPlex 9020 Micro
Precision 7510
Precision 7710
OptiPlex 7440 AIO
OptiPlex 3240 AIO
OptiPlex 3040 Micro
OptiPlex 7040 Micro
OptiPlex 7040 SFF
Latitude 12 Rugged Extreme 7214
Latitude 7414
Latitude 5414
OptiPlex 3050 MT
OptiPlex 3050 SFF
OptiPlex 5250 AIO
OptiPlex 7450 AIO
OptiPlex 5050 MFF
OptiPlex 5050 SFF
OptiPlex 5050 MT
OptiPlex 3050 MFF
OptiPlex 7050 MFF
OptiPlex 7050 SFF
OptiPlex 7050 MT
OptiPlex 3050 AIO
XPS 8930 Tower
| | |
| --- | --- |
| Importer | CMS |
| Warranty Provider | Trevor Tech |
Only logged in customers who have purchased this product may leave a review.
Related products
Essentials Download Specifications Product Collection 10th Generation Intel® Core™ i3 Processors Code Name Products formerly Comet Lake Vertical Segment Desktop Processor Number  i3-10100 Status Launched Launch Date  Q2'20 Lithography  14 nm Use Conditions  PC/Client/Tablet CPU Specifications Total Cores  4 Total Threads  8 Max Turbo Frequency  4.30 GHz Intel® Turbo Boost Technology 2.0 Frequency‡  4.30 GHz [...]